Product Properties
Our pan precusor for producing carbon fabric is the most sellers in China.

Large quantity and good quality.

Various types of fiber count.
Technical Data Sheet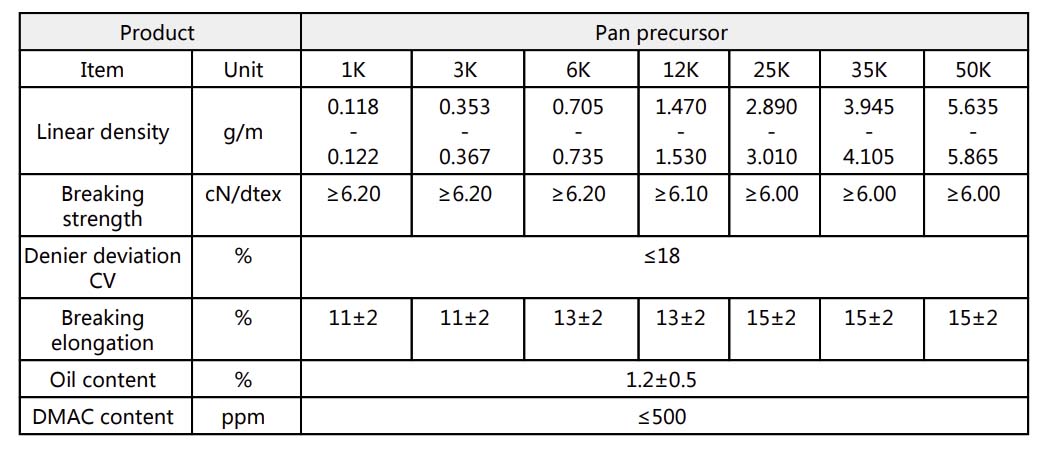 Know more about PAN
Polypropylene (PAN), also known as polyvinylcyanide and Creslan 61, is a synthetic semi-crystalline organic polymer resin with a linear molecular formula (C3H3N)n. Although it is thermoplastic, it will not melt under normal conditions. It degrades before melting. It will melt above 300 °C if the heating rate is 50 degrees per minute or more. Almost all PAN resins are copolymers made from a monomer mixture with acrylonitrile as the main monomer. It is a versatile polymer used in the production of a variety of products including ultrafiltration membranes, hollow fibers for reverse osmosis, textile fibers and oxidized PAN fibers. PAN fibers are the chemical precursors of high-quality carbon fibers. PAN is first thermally oxidized in air at 230 °C to form oxidized PAN fibers, which are then carbonized in an inert atmosphere at temperatures above 1000 °C to make carbon fibers for a variety of high-tech and everyday applications such as civil and military aircraft Primary and secondary structures, missiles, solid propellant rocket motors, pressure vessels, fishing rods, tennis rackets, and bicycle frames. It is a constituent repeat unit in several important copolymers, such as styrene-acrylonitrile (SAN) and acrylonitrile-butadiene-styrene (ABS) plastics.
Polypropylene tertiary alcohol (PAN) was first synthesized in 1930 by Hans Fikentscher and Claus Heuck at the Ludwigshafen plant of the German chemical group IG Farben. However, further research on this material was stopped because PAN was not fusible and was not soluble in any industrial solvents used at the time. In 1931, Herbert Rein, Head of Polymer Fiber Chemistry at the IG Farben Bitterfeld plant, received samples of PAN during a visit to the Ludwigshafen plant. He found that the ionic liquid pyridinium benzyl chloride dissolved PAN. In 1938, he spun the first PAN-based fiber using an aqueous solution of quaternary ammonium sodium thiocyanate and aluminum perchlorate in the production process, and considered other solvents including DMF. However, commercial introduction has been delayed by wartime stress on infrastructure, the inability to melt polymers without degradation, and the unknown solvents that allow solution processing. American chemical conglomerate DuPont first produced PAN fibers on a large scale in 1946. German intellectual property stolen in Operation Paperclip. The product, branded as Orlon, is based on a patent filed seven days after an almost identical German claim. In the German Democratic Republic (GDR), industrial acrylic fiber production started in 1956 at the VEB Film- und Chemiefaserwerk Agfa Wolfen thanks to initial work by the Wolcrylon collective (de:Max Duch, Herbert Lehnert et al.). Prior to this, the Buna Werke Schkopau (polyethylene glycol) and Leuna plants (dimethylformamide) already had the prerequisites for the production of raw materials. In the same year, collectively won the second prize of East German National Science and Technology Award
Q1:Are you a factory? Where are you located?

A: We are a professional manufacturer with more than 5 years production experience of composite materials, We have two factories, one in Nantong, Jiangsu, China and the other in Bangkok, Thailand.

Q2:What's the MOQ?
A: Usually 100SQM.

Q3:Package & Shipping.
A: Normal package: by carton.

Q4:When can we offer?
A: We usually quote within 24 hours after we get your inquiry. If you are very urgent to get the price pls call us or send email to us, so that we can reply you with priority.

Q5:How do you charge the sample fees?
A: If you need a samples from our stock, we can provide to you for free, but the free charge should be on your side. If you need a special size, We will charge the sample making fee which will be refund when you place an order.

Q6:What's your delivery time for production?
A:If we have stock , can delivery in 1-7 days, if without stock, need 5-30 days, depend on quantity.
Q7:What is your payment term?
A: Paypal, T/T, L/C AT sight, D/P and Western Union