Carbon Fiber
Since the launch of the T300 in 1971, Toray has been committed to the production of high-performance filament carbon fibers around the world, from Toray®, a high-performance and high-quality carbon fiber for aviation, to ZOLTEK™, a low-cost large-tow carbon fiber suitable for mass production. A variety of carbon fiber composite materials that are rare in the industry. It has the advantages of high performance, high quality, variety of products and stable supply.
Toray produces carbon fiber at various global bases in Japan, Korea, the United States, France, Hungary, and Mexico. With this large-scale production capacity, carbon fiber products can be stably supplied to global customers. As of March 2022, Toray's global carbon fiber production capacity has reached 57,770 tons.
Small tow carbon fiber (1k-24k) production capacity is distributed in Japan, France, the United States and South Korea, with a total of 28,770 tons; large tow carbon fiber (>24K, ZOLTEK) production capacity is distributed in Hungary and Mexico, with a total of 29,000 tons.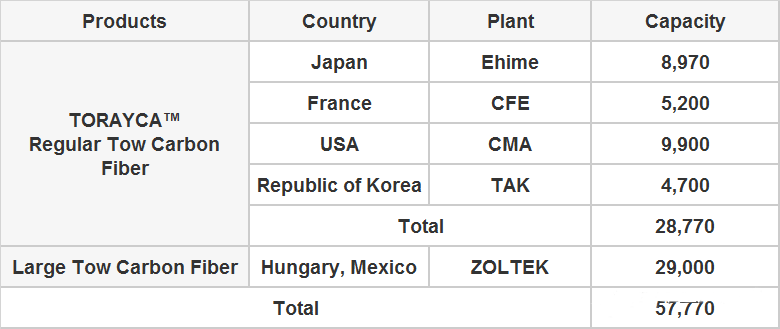 Toray's carbon fiber production capacity and global distribution
 Resins
As of March 2022, Toray's global resin production capacity has reached 744,600 tons, mainly distributed in Japan, Malaysia, South Korea, and Indonesia.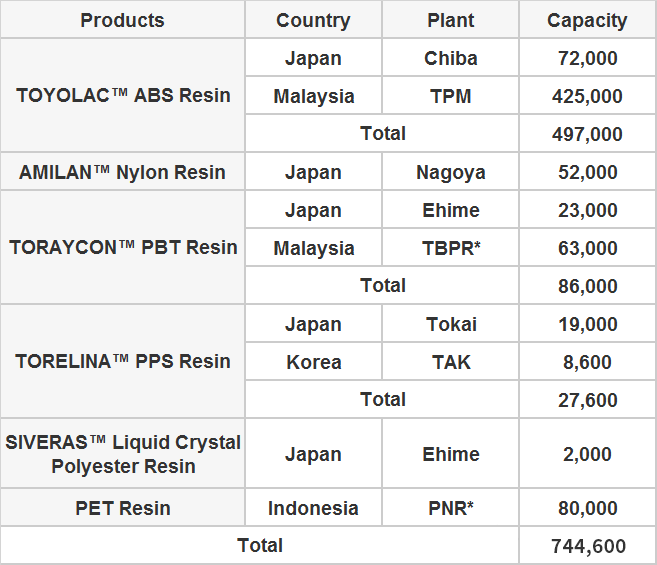 Toray's resin production capacity and global distribution
Carbon fiber product grades, performance indicators and main application areas

Product grade and performance index










Packaging information













Main application areas